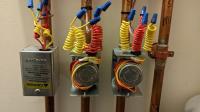 Boiler Services
Rely on Target Air HVAC for Boiler Repair and Replacement in Redford
Has your behemoth beast of a boiler had difficulties warming your home? Is it refusing to turn on or whistling like a deranged tea kettle? Well, we can help! Call Target Air HVAC to make sure your boiler is running efficiently and properly. Whether it runs on gas, oil, or electricity, our hydronics experts have the skills to get the job done.
An ill-maintained boiler can not only cost a lot more to run regularly, but can be dangerous to you and your household. Trust the professionals at Target Air HVAC to take care of your boiler repairs, replacements, maintenance, or installations. We'll make sure that the job is done right to save you money and help keep your family safe and comfortable.
For boiler service done right in the Redford area, you can't go wrong with Target Air HVAC.
A Simple Explanation of How Boilers Work
Boilers are a type of HVAC system that uses water to transfer heat throughout your home. When compared to forced air systems, hydronic equipment has several benefits. First, they're more consistent and less likely to produce hot and cold spots. They're also more efficient than your standard furnace. Lastly, for homes with no ducts, boilers offer an alternative to mini splits. The lack of ducts also lessens the amount of dust and dander in your home.
To better understand why your boiler might need a repair in Redford or Livonia, it's good to have an understanding of how they work:
Your thermostat senses a drop in temperature and signals your boiler to turn on
Now powered on, the boiler uses its fuel source (electricity, gas, or oil) to heat the water in its tank
Heated water is then forced through your home via in-floor heating coils or radiators
Warmth from these heated elements dissipates into the air warming your home
As it cools and condenses, the water reenters the tank
The process repeats until your home reaches the desired temperature
Your thermostat tells the boiler to suspend firing until a drop in temperature triggers it to resume
Signs Your Boiler Needs a Visit from an HVAC Expert
Failures at any point in the above process can result in difficulties heating your home. As boiler experts with more than 3 years of experience finding and repairing boiler faults, we've seen what happens when things go wrong. Before a major failure, however, there are signs that something's amiss in your hydronic heating system. Items to watch out for include:
Leaks: Are you noticing water on the floor near your radiator? Puddles around your boiler? These leaks are more than annoying; they're potentially dangerous. In addition to damaging flooring and fixtures, the excess water can also drip into your boiler's electrical system and spark a malfunction. Because of this, all leaks should be treated seriously. If you find or suspect one, give us a call and let us investigate.
Low Pressure: Boiler systems rely on pressure to push heated water throughout your home. When the system loses pressure, cold water and a lack of heat result. Fortunately, modern boilers make it easy to identify this problem. A display panel on the unit displays the current pressure—which, for most systems, should be around 1.5 bars. This problem can often be solved by repressurizing the boiler. If you don't feel comfortable doing it yourself, one of our hydronics experts can help you.
Strange Noises: Whistling, groaning, or gurgling are often signs something is amiss with your boiler. While small to moderate levels of noise are to be expected, unusual ones are often the first signs of a major problem. But, identifying what exactly is causing the issue can be difficult, especially if you're not used to dealing with it. So, if the bumps and groans of your boiler keep you up at night, give us a call at Target Air HVAC. Whether you live in Farmington Hills or Redford, our HVAC experts are here for you.
No Heating: If your radiators are cool to the touch, your home's not getting warmer. In most circumstances, however, only one part of the radiator will be heating up. This problem can often be solved by bleeding the system. But if that doesn't work, schedule service with Redford's preferred boiler experts.
Pilot Light Problems: Your boiler has a blue flame under it called the pilot light. Its heat is what keeps the system charged and running. If this light often flickers or goes out, it's a sign that's something wrong with your thermocouple. But before you try to relight it, make sure gas is getting to your boiler. If not, a gas leak or gas stoppage may be to blame. If you confirm your gas pipes are functioning and your pilot light still refuses to light, let us know.
The Causes of Boiler Failure
Repair • Upgrade • Installations
Whether you're in Redford or Livonia, the root causes of boiler failure remain the same. They include:
Freezing: Water in a boiler system or attached condensate pipes can freeze when temperatures plummet. This can lead to busted valves and burst pipes. If not handled immediately, catastrophic water damage can result. The cost of frozen boiler system repair can vary widely. While copper piping is easily repaired, cast iron is a different story. Cracked radiators, meanwhile, always have to be replaced. Whether the problem calls for a simple repair or the installation of a new boiler, Target Air HVAC is able to assist.
Thermostat Problems: Thermostats sometimes run into issues communicating with your boiler or they stop working altogether. Before calling someone for hydronics repair, make sure the battery in your thermostat is functioning as intended. Also clear any alerts and verify the system is set properly. If none of these steps fix the problem, give Target Air HVAC a call. We'll quickly diagnose the problem and fix the communication problems affecting your HVAC system.
Sludge Build-Up: Cold spots on a radiator and inconsistent heating in a boiler system often comes down to sludge build-up. You see, over time, rust and other minerals from the water accumulate on the pipes of your radiator or in-floor system. These issues can often be fixed by bleeding the radiator. While you can do this yourself, it's a good idea to let us walk you through the process first.
Excess Air: When air bubbles become trapped in your boiler system, whistling and other strange noises can result. This is another issue that can typically be fixed by bleeding or repressurizing the system. In most cases, however, it's difficult to tell if the problem is air or something more serious. For that reason, we recommend scheduling an appointment with us in Farmington Hills or Redford before attempting to do it yourself.
Installation Issues: When it comes to boiler installation, it's easy to get things wrong. If you don't know what you're doing, it's simple to place a zone valve, vent, or circulator in the wrong spot. And, unfortunately, the resulting issues can plague you long after your HVAC contractor leaves. We find that improper installation is at least a minor factor in almost all boiler failures. So, if faced with replacing a boiler, spend the extra money on a certified heating contractor.
Age: While boiler systems can last much longer than conventional furnaces, they don't last forever. At about 20 years of continual operation, many pieces of hydronic equipment start showing their age. As rust becomes more prominent, components will start to fail. As your system passes into its second decade, it becomes a question of whether the cost of repairing is worth it. Fortunately, our boiler replacement experts can help you explore models and find the most economical solution for you and your family.
Skipped Maintenance: The importance of annual boiler maintenance cannot be overstated. Your boiler's heat changers need to be cleaned to reduce corrosion and increase system efficiency. During their boiler tune-up, technicians will also check your system for signs of cracking.
Our Other HVAC Services in the Livonia Area
In addition to boiler repair, replacement, and installation, we also offer a number of other services in the Redford area. These include:
AC Repair
AC Installation
AC Maintenance
Furnace Repair
Furnace Installation
Furnace Maintenance
Heat Pump Service
Heat Pump Installation
Heating Service
Thermostat Repair
Thermostat Replacement
Indoor Air Quality Services
When Your Boiler Needs to Be Repaired or Replaced Call Redford's Hydronics Expert
When you need your boiler repaired or replaced, trust Target Air HVAC to get it done right. Our HVAC experts have the skills, expertise, and tools to fix most boiler issues on the spot. Our technicians are trained professionals who understand your needs and will treat your problem with the care and attention it deserves. After diagnosing your problem, our employees take time to fully outline your options and assist you in finding the one that fits your needs. We service most brands of boilers including Lochnivar, Weil-McLain, Lennox, Bryant, Carrier, and Rinnai.
Call Target Air HVAC to schedule boiler service or installation in the Livonia, Redford, or Farmington Hills areas.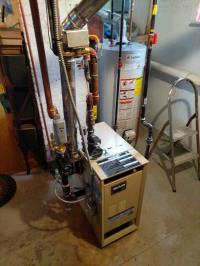 Boiler FAQs
What's the Difference Between a Boiler and a Furnace?
A boiler is a hydronic heating system, meaning it uses water to heat your home. A furnace, meanwhile, relies on air to do the same job. In the case of a furnace, a blower motor propels this heated air through your vents and back to your heating system. If your heating system has a water reservoir, it's a boiler. If not, it's likely a furnace, heat pump, or geothermal system.
Can My Boiler Double as a Hot Water Heater?
Though this wasn't always the case, there are now combination boilers on the market. These hybrid systems heat water for your bath as well as your home. Standard systems can also be joined with a water heater to offer a similar service. For more information on the types of equipment we sell, call Target Air HVAC.
How Often Should I Have My Boiler Serviced?
Most manufacturers recommend yearly boiler maintenance. These regular inspections can help prevent small problems from snowballing into something worse. To best ensure uninterrupted comfort for you and your family, consider joining our HVAC maintenance program.
Are There Different Types of Boilers?
Boilers are often categorized according to their fuel source and use. Most residential homes use natural gas or oil as their fuel source. The latter requires having an oil tank in your yard to supply the boiler. The former, as it's cheaper to operate, is now the more popular of the two. But, in areas where natural gas lines don't exist, it's an alternative to expensive geothermal systems. While we mostly deal in residential boilers, commercial models exist for use in hotels, factories, and hospitals.
How Do I Know if I Have a Boiler System?
If your home has only radiators, and no vents, you have a boiler system. A cylindrical water tank is another indicator that your heat is generated from a boiler.